Fresh Garden Succotash

By: Russell Goldfinger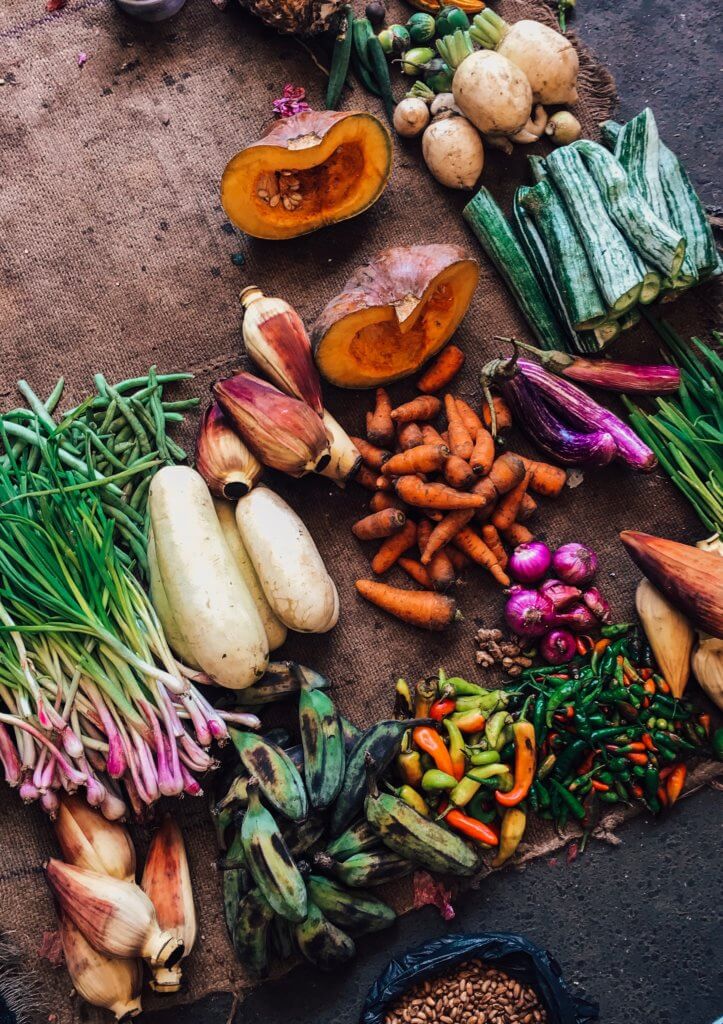 Yeild: 6 servings
Made with the Farmers Market Ingredients
Ingredients
1 large Yellow Onion
1 medium Eggplant
4-5 Baby Squash (2 medium Squash are fine)
1 large Stripped Zucchini (regular Zucchini is fine)
1 Pint Assorted Sunburst Tomatoes (Grape or Cherry Tomatoes are perfect)
1 lb. fresh field peas (this can be substituted with any pea, and most recipes recommend Lima Beans)
4 ears Peaches and Cream Corn husk on (Silver Queen Corn can also be used)
1 ½ Tbsp. Kosher Salt
¾ Tbsp. Fresh Ground Pepper
5 sprigs Oregano
3 sprigs Basil
½ Tbsp. Cumin
½ Tbsp. Coriander
1 Tbsp. Paprika
6 oz. Fresh Goat Cheese
1 ¼ lb. Chicken Breast
½ lb. butter
Chicken Marinade
 (Marinate Chicken 4-6 hours)
2 oz. minced garlic
2 oz. minced Shallots (Red Onion can be substituted)
½ cup Olive Oil
1/3 Tbsp. of each Parsley, Basil, Oregano
Instructions:
 
Combine marinade ingredients and allow the Chicken Breasts to marinate for 4-6 hours.
 
First, take the corn, husk on, and roast either in the oven at 250 F for 25-30 min, or on the grill until the husks are brown in color.  If using a grill, set corn at least 4 inches above the heat source as to not burn the husks.
 
Pour the field peas into a small saucepan and fill with water just to cover the peas.  Turn heat to medium and cover the pan.  Let peas cook for 15 min. occasionally checking on them to make sure the water has not evaporated.
 
Take the Onion, Squash, Zucchini, and Eggplant and dice into ¼ inch cubes (about the size of a man's thumbnail).  Set each in individual bowls to the side and cover.
 
Once the corn is done, remove from heat and let cool for 5-10 minutes.  When it is cool to touch, remove the husk and cut each ear in half, or to a manageable length the slice the kernels off the ear.  Here is the key.  You want to take a knife a cut the kernels off the ear, but you want to do it in a double cut.  This means when you cut the first time you want to only cut off the top half of the kernel, so when you cut the second time you remove the remainder of the kernel.  This is key to succotash, so that the starch from inside each kernel is released.
 
Heat a skillet to medium and add the butter and onions.   Allow onions to caramelize until they are semi-transparent.
 
Once the onions are semi-transparent, add the cooked field peas and cook for 5 minutes.
 
When the field peas and onions start to mingle, turn up the heat and add the squash, zucchini, and eggplant.  Stir thoroughly.
 
Once mixed well add the double cut corn kernels along with the seasoning, toss and cover the skillet.  Turn the heat back down to medium-low and cook for 10-15 min.
 
Remove the chicken, and grill the breasts until done.
 
Let the chicken cool and then slice it into ¼ inch slices.
 
Remove lid from the succotash and stir.  The succotash should have thickened a bit and become a medley of vegetables.
 
Pour the succotash into a large serving dish and arrange the sliced chicken on top in a spiral formation.
 
Crumble the goat cheese over the top of the dish and sprinkle the parley for garnish.
 
Enjoy!
Pineapple Salsas

By: Chef Brett Jenkins of Hubbard's Off Main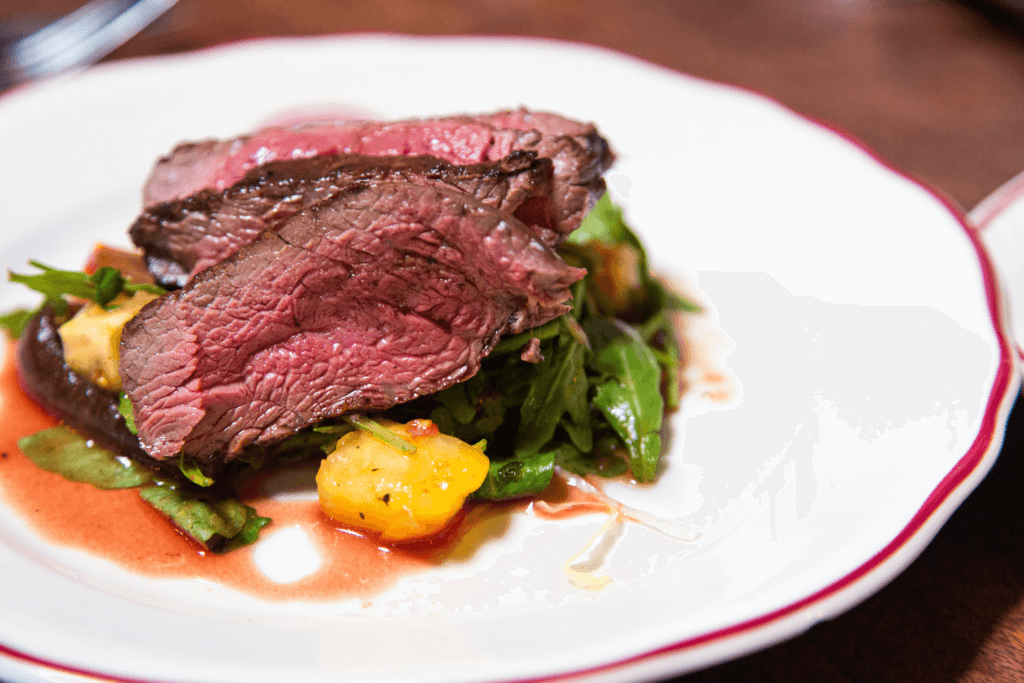 Steak with Pineapple Salsa
Ingredients
2 C Pineapple Chunks
1 Roasted Red Bell Pepper
2 Sweet Banana Peppers
1 tsp Cumin
1tsp Salt
Juice of 1 Lime
Sauté together until tender.  Use to top meats.
Ingredients
2 C Soy
1 C Pineapple Juice
1 Small Can Crushed Pineapple
1/2 C Brown Sugar
1 tsp Grated Ginger
1 tsp Black Pepper
Combine all ingredients and use as a marinade for all meats and fish.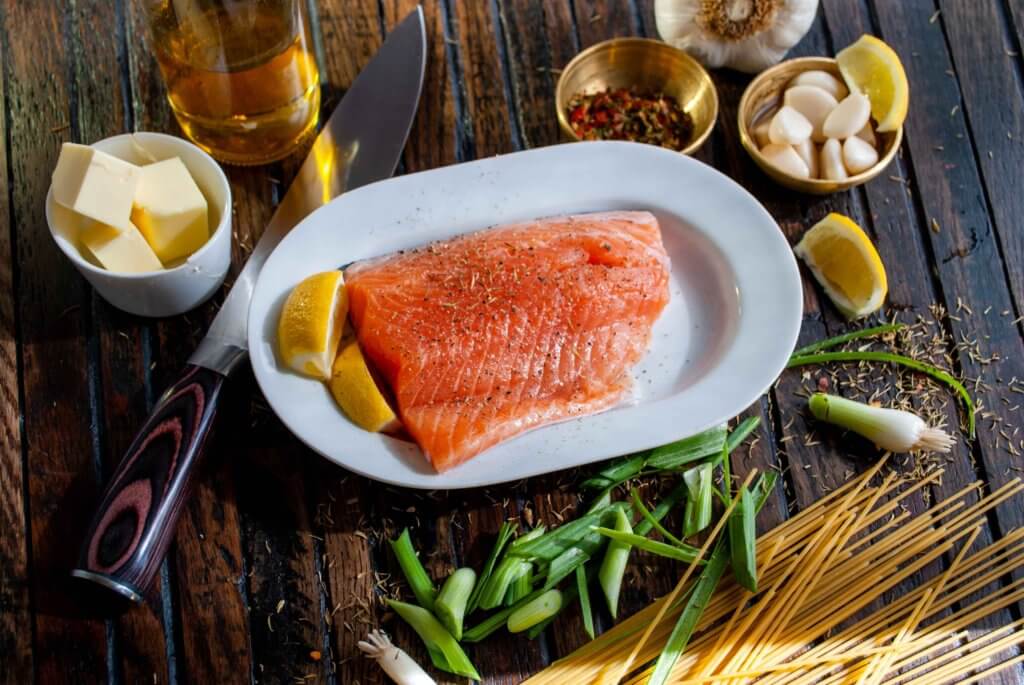 Summer Tomato Salad

By: Russell Goldfinger of The Vic-Bistro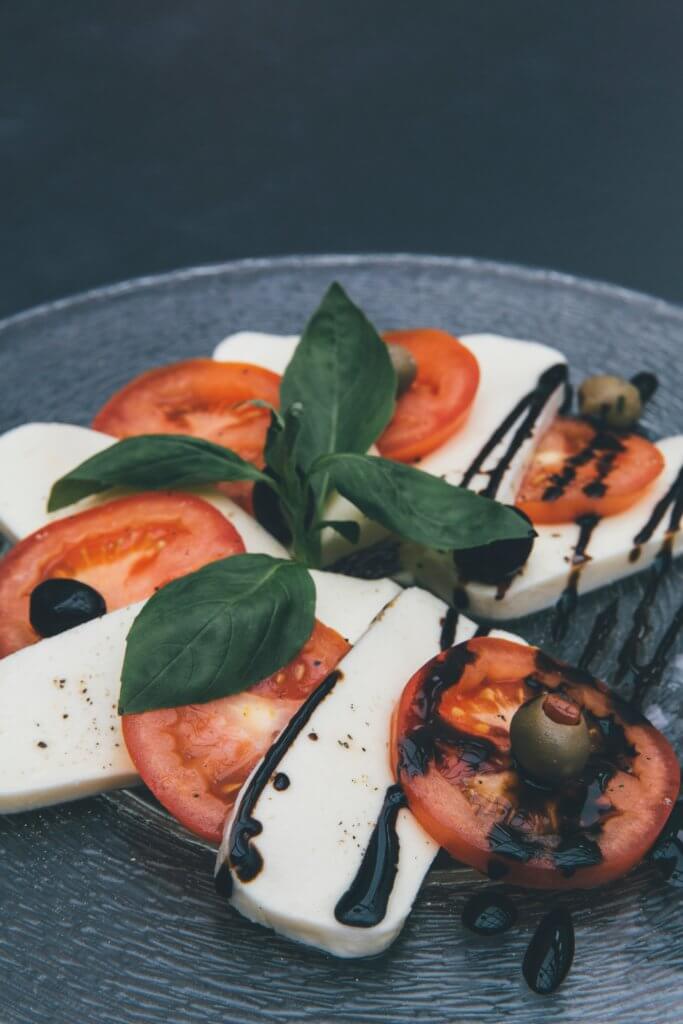 Yeild: 6 servings
Made with the Farmers Market Ingredients
Ingredients:
3 large Heirloom Tomatoes
1 medium Cucumber seeded
2 ears of Sweet Corn kernelled or 2 cups Kernel Corn
2 cups Pink-Eye Peas or Black-Eye Peas
1 large Green Bell Pepper diced 1/8'
½ cup Crumbled Feta
12 large Basil leaves
 
Dressing:
1 cup Balsamic Vinegar
1/3 cup Extra Virgin Olive Oil (E.V.O.O.)
1 Teaspoon Parsley
1 Teaspoon Oregano
1 Teaspoon Basil
1 Teaspoon Angry Apricot Mustard
1 small Poblano Pepper
Instructions:
In advance:
Roast Poblano pepper and remove outer skin.
Dice Roasted Poblano Pepper fine.
Combine Balsamic Vinegar, Mustard, Parsley, Oregano, and Basil in a medium mixing bowl.
Slowly add E.V.O.O. to the vinegar mixture whisking constantly while adding the oil.
Once dressing is done set to the side.
 
Take corn and cut the kernels off the husk.
Take ¼ – ½ dressing and, in a separate mixing bowl, combine corn and vinaigrette (some liquid should remain in bowl).
Let corn marinate refrigerated at least 12 hours to tenderize.
 
Once corn has finished marinating, remove from fridge and let it reach room temperature.
Fill a medium saucepan with Peas and add enough water to cover the Peas by 1 inch.
Heat on high until the water begins to boil.
Once water is boiling, cook Peas for 5-7 minutes or until they are tender yet not fully cooked.
Remove from stove, strain peas, and rinse with cold water.
 
Cut cucumber in half and remove seeds from the center.
Dice cucumber into ¼' pieces.
Mix cucumber, cooled peas, and marinated corn together.
Let sit.
 
Core and slice the tomatoes into ¼' slices.  You should get about 4-5 slices per tomato.
For each plate – Arrange 2 slices of tomatoes shingled on a plate.  Top tomatoes with cucumber, pea, corn mixture, and drizzle remaining dressing over tomatoes.  Top with crumbled feta.
Garnish with 2 Basil leaves over the top and serve.
Enjoy!
 
Salad can also be served by dicing tomatoes and mixing all the ingredients together (this is how I served this dish at the Farmer's Market).